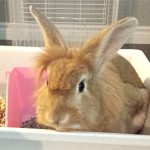 Female | Lionhead | Arrived June 2015
Unfortunately little Lucy has had a hard start. She was an owner surrender, then adopted out to bond, unfortunately that bond didn't work out so she was returned.
Lucy is a big, beautiful sweetheart. She is very friendly and does well both free range and inside her enclosure, although she prefers to be out. When she is out, like most buns, she loves wires, so bun-proofing with this princess is a must. She does not like going on hard floors, but happily runs and binkys on the carpet. She loves to race around and will binky up a storm to show you how happy she is. Miss Lucy gets along famously with her foster mom's two cats. She also has perfect litter habits and is a very clean bun.