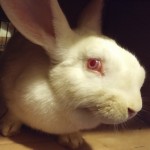 Female | New Zealand | Arrived December 2015
McTwisp is a curious climber who wants to know what is over the fence, on the shelves, or beyond the door.  Though her curious nature often leads her to the second shelf, she never seems inclined to chew through a new book.  She loves her food and water.   She is a sweet and growing girl that would be happy as a house rabbit in a loving home. She is full of personality and will often do silly and funny things to surprise her foster family (such as jumping right into her hay bin).
After a very rough start to life, she is ready for her forever home!  She was bought from a market and then dumped outside to fend for herself along with 8 other rabbits.  We rescued her from a shelter where she was set to be euthanized, along with some of the other bunnies.  We had her treated for an eye infection, had surgery to remove an abscess from above her nose, and had her spayed. She is finally doing great.  If you would like to help , but cant adopt, please consider sponsoring her to help us with the costs we incurred for her.  If you are looking for a new furry friend, she would make a wonderful choice!!

UPDATE June 2016: McTwisp is a girl of constant motion. When out and about she is curious and loves to find new places to sniff and binky. Though she is excellent at avoiding the tasting of baseboards, she does enjoy a fine wire. She enjoys attention only when she asks for it. Usually by shoving her nose under your hand, foot or nearest appendage for pets. She is mostly independent and curious. To meet McTwisp is to love her, turned out paw and all. She is a rabbit of character and will make someone an excellent house rabbit, just secure the hay bin first.