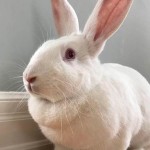 Peaches is one of Vienna's babies, that came to us only 2 days old on Aug. 7th 2016.  Vienna was seized after being raised for meat in disgusting conditions.
Peaches is a sweet and spunky girl. She is still a little timid about getting picked up or petted but enjoys running around and doing her own thing. She is very curious and likes to explore everything in her environment. She is also very friendly with other animals and will hop right up to cats. Peaches isn't very destructive but can get into mischief if she finds that she isn't getting enough time out of her pen. She is a happy girl who loves to do binkies and run around, especially in the morning. Her fur is very soft.
She would do really well bonded to another rabbit(s). She loves other animals and is super friendly with them. She's got a bit of an attitude and binkies away when she knows it's time to go back in her pen. She has a bit of trouble on our hardwood floor but doesn't seem afraid of it at all and is getting used to it. She is definitely a morning rabbit who loves the sun.
She sleeps well at night and is up as soon as the sun comes up to run around like crazy and do binkies everywhere. She is super curious and will explore everywhere and everything she can get to. She can make anyone laugh with her antics. The only thing she ever destroyed were some paper pictures that were taped up in her pen. She decided she didn't like the décor and let her foster mom know. She will be spayed as soon as she is old enough. She cant wait to find her forever home!