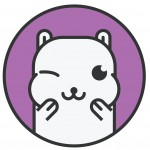 Cocoa Bean and Coffee Bean are dwarf hamsters that must be adopted together.  They came to Rabbit Rescue from Indiana, via the Pipsqueakery. They had been abandoned and needed a home to help rehabilitate them as they were prone to biting. From the get-go it was obvious to their foster family who was the bossy, active hamster and who was the "chill" girl. Coffee Bean earned her name because she runs around like she's hyped up on caffeine, and is definitely the bossy one. Like her name, Cocoa Bean is a sweetie, and much more laid back. Cocoa Bean has allowed her foster mum to stroke her back and will take treats. Coffee Bean is still unsure, and will only let herself be pet on her own terms.
Cocoa Bean is usually found sleeping in her food dish… She loves to eat! Coffee Bean is usually on her wheel or climbing the cage when she isn't napping.
Both Coffee and Cocoa are proving to be devoted mothers..because SURPRISE.. after a few days in our care they both had babies!. All 6 babies are now up for adoption as well.