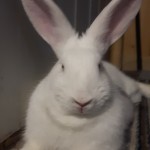 Snowflake didn't have the greatest start.  She was removed from a disgusting situation in July 2016 by the SPCA.  She was 1 of the #103 taken in.  We had her health checked, and spayed her as soon as she was old enough.  For her first few month with us she was she was very hormonal and territorial. Because of these issues Snowflake was moved around multiple times to different foster homes.  Once she settled in to her last foster home, more experienced to to help her learn to trust and come out of her shell. She flourished into an absolute LOVE bunny.  She adores being pet and being with people.  She expresses her happiness continuously by doing little head shakes and binkies.  She can get some serious air!.  Her foster mom has never seen a bunny binky as much as Snowflake.  Anyone that meets her, has witnessed her happiness.
Snowflake does require bunny proofing as she is super curious. She is young and has lots of energy. Snowflake definitely enjoys her "out" time and ensures to check out every nook and cranny of her space, she enjoys flopping out under furniture and running through tunnels.  She is very good with her litter habits and always goes back to her xpen to do her business. Snowflake is a phenomenal eater, there really isnt anything yet her foster mom has offered her that she hasnt liked!  All types of greens, carrot, apple, banana, martins treats, pellets and she eats her weight in hay! No fussy
bunny here. Snowflake can still be a bit lungy at times but responds well to correction. Her foster mom believes she would benefit from 1 on 1 attention and turn into the perfect bunny for any home.  Her current foster home is not able to keep her any longer as they are moving. Thus, she is seeking her fourth foster home, OR adoptive home! She is such a lovely rabbit now, we hope she can find a home where she can settle into and call her own!