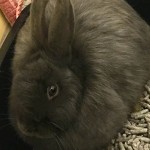 Hi – I am Button.  I have decided to write my own Bio.  That is just how I role…
I would like to start by saying that I am a girl – because 'Button' doesn't adequately express this important fact.  Although I appreciate the sentiment behind how I got this name – "oh my, she is cute as a button!", "oh my, she has a cute button nose!" – I rather thought that Beyonce would have been more appropriate.  Just my gorgeous full bodied head of hair alone screams diva!  But I am not bitter.
Rabbit Rescue had me spayed and health checked in April 2017 and Im healthy!  I was dumped outside by my owner and caught by a RR volunteer thank goodness!
It is not spite that causes me to nudge people out of my way or give them sideways glances when they are messing up my beautiful long locks with hands that I clearly did not witness them washing; it is my stature.
That being said, I'll admit to getting a little mileage out of putting on airs and graces.  The more I do it, the more my foster parents go out of their way to cater to my every whim.  Although I make a point of being 'hot and cold' when they are crouched above me while stroking me, I reward them when they get on the floor and lay at eye level by grooming their hair and nuzzling their cheeks.
They get such a kick out of it, that they don't even notice when I am going around and rubbing my scent all over them! Ha!  You're mine now!
Sometimes I forget my strategy and do cute little bunny things, like flops and binkies; although I usually recover my dignity fairly quickly.  Well, except for at desert time…  The other day I got my usual favourite – smooshed fresh banana.  This alone affords my foster parents a couple of binkies; just to keep them on side. But then Foster Sue went above and beyond and, consequently, so did I!
My foster mom sat down on the floor (like I have trained her to do) with my bag of Oxbow Oat Hay; she does this thing where she reaches into the bag and finds the shoots of oat seeds.  On this particular day, the bag was almost empty and there didn't seem to be any shoots left.  I was totally ready to unleash some attitude like the world has never witnessed when she proceeded to put a handful of loose bits into a bowl which she began sorting.  At first, it wasn't apparent what she was doing until she extended her arm with a little offering; an individual oat seed.
The thought occurred to me to make her feel bad for such a measly offering, like grunt and walk away, but I chose to take the seed and just stare at her; I was going for the "is that all you have to offer me!" look.  Foster mom proceeded to sort out individual seeds, and I proceeded to take them.  Before I knew it, with every seed I got, I did a small 'Indy 500' quickly followed by a tight and precise binky.  This went on seed after seed.  I don't quite know what got into me that day…  I like to blame it on the sugar.  This is a true story.