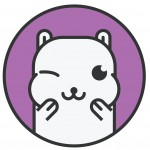 Shy (aka Maggie), a female hamster,  was surrendered to us on June 23rd 2017, she was part of an accidental litter and was 2.5 months at time of surrender.  She's a only a little bit shy but warms up quickly.
Shy is an active little lady who is doing very well in her foster home. Contrary to her adorable name, she is actually friendly, eager to explore new places, and meet new people! After some patience, Shy has shown to be a very curious animal. She loves playing with her chew toys and moving around nesting material in her home. With lots of love and care she will become a confident hammy in her new forever home!
On July 7th she gave birth to 7 babies, who will be weaned in 3 weeks. (She came to us pregnant). We are looking for 7 foster homes for her babies. She can be adopted once the babies are weaned, but we are happy to accept an application for her adoption before then (you would be able to bring her home once babies weaned).