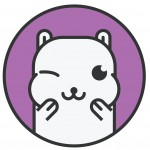 Ryder was surrendered to us on June 23rd 2017, he was part of an accidental
litter and was 2.5 months at time of surrender.
UPDATE as of Oct 2017
He is shy but warms up quickly. He prefers women over men, but with time warms up to men as well.  He is very curious and adventurous, and loves running around in his ball and exploring cardboard boxes.  He gets lot of handling time in his foster home, and also enjoys running in his ball for 10 minutes at a time.