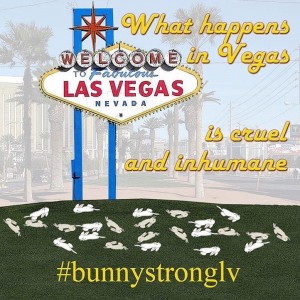 Recently, Rabbit Rescue was able to help rabbits in Las Vegas by taking in eight bunnies.  There are several dumping grounds in Vegas with hundreds of rabbits, and rescue groups in the area have been working to catch and rescue them.  We were able to arrange transport and raise the funds to get them into our care Jan 2018. We thought the story might end there, but the situation took a drastic turn when someone began poisoning the rabbits, killing dozens in one day.  The city of Nevada also issued a letter stating they will be catching and removing the rabbits. As a result of both of these situations, local rescues are working over time to catch even more rabbits.  But with so many rabbits, they need our help.  Rabbit Rescue has sprung into action again to help get more rabbits into our care.  This time, 25 will be coming to Ontario.  We have again partnered with Rusty & Furriends, a rescue in Vegas dedicated to helping as many of these rabbits as they can.
We started a gofundme for the transport costs ($2500) and reached our goal in 20 hours!
 We urgently need your help!
In order to take in 25 bunnies, we still need FOSTER HOMES!  (Foster Application Download Here)
Apply to adopt a Vegas bunny!  These bunnies are highly bondable as they are used to being around other rabbits. (Adoption Application Download Here)
Sponsor a Vegas Bunny!  Your donation will help pay for spays/neuters, health checks, and any medical issues they encounter upon arrival or while in our care.  Donations will also help cover the "import fee" we need to pay to bring them across the border.   You can make your tax deductible donation here:  (DONATE NOW)  EMAIL US TO LET US KNOW YOUR DONATION IS FOR THE VEGAS BUNNIES.
The bunnies are all health checked in Vegas, and receive a fecal to ensure no parasites. They will each get a health certificate for boarder crossing.  All rabbits are assessed for suitability for the long 5 day journey. Extreme care is taken to ensure suitable rabbits are chosen.  Our experienced rabbit drivers check on the bunnies hourly, offering food and assessing them.  All rabbits are overnighted in bunny friendly homes that are ready and waiting with pens for them to stretch out and rest for the night.
 Help us bring 25 Vegas bunnies into the safety and care of Rabbit Rescue and make more bunnies Canadian citizens!   Please check our social media pages (FB, IG, Twitter) for daily updates & photos of the Vegas bunnies we need foster/adoptive homes for.