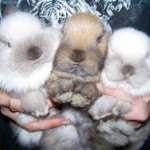 Haviva Porter is over-whelmed by rabbits.
The executive director of the Rabbit Rescue in Milton, Ont., recently received 103 rabbits from the Sudbury area, many of which had respiratory infections, parasites and, in the case of one animal, needed to have its eye removed.
These rabbits were among the 400 taken by the Ontario SPCA in May from a Manitoulin Island property.
Hendrick Reckman has been charged with 26 counts of animal cruelty after the SPCA received an animal care complaint. These charges include five counts of permitting animals to be in distress, five counts of failing to provide necessary care for general welfare and one count of failing to kill an animal humanely. If convicted, Reckman could face a $60,000, fine up to two years in jail and a lifetime ban from owning pets. Read more