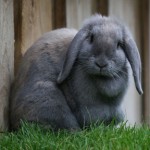 Does your rabbit need a new home?
The first thing you need to do is ask yourself why you need to find a new home for your rabbit. Remember that once your rabbit is given to someone else, you have absolutely no control over how he or she will be treated in the future. Be very careful as you decide your rabbit's fate.
You have several options:
Work with us to find a way that you can keep your rabbit.
Find a new home for your bunny on your own.
Take your rabbit to the local humane shelter.
Depending on our current situation, you may be able to foster your rabbit for RR while we try to find them a home.

Please, DO NOT let your rabbit loose outside!
Pet rabbits are not wild rabbits. They are dependent on humans for survival and will not survive outside. They lack instincts and physical characteristics of wild rabbits and will be killed by exposure, other animals, cars, or hunger/thirst. This is a cruel fate for your beloved pet. It is illegal to set your pet rabbit 'free' outside.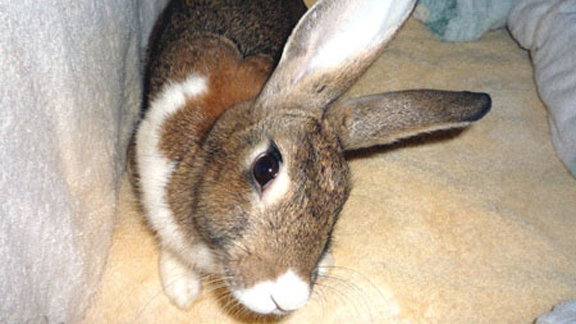 Option 1: Work with us to find a way to keep your bunny
If you are considering a new home because your rabbit is exhibiting behaviours that are too much for you to handle, we can help you. There are many different options to change your situation and to help you and your bunny understand each other. Some options include spaying/neutering, changing the environment, learning how to read your rabbit's cues, and more. We can help you to change the habitat, litter train, and bunny proof your home. Behaviours that are tied to hormones include marking territory, biting, and mating behaviours. Getting your rabbit spayed or neutered easily controls these behaviours. Providing toys and safe materials to divert your bunny's attention can curb chewing. We can help you find a remedy for your rabbit's behaviour.
Are you moving? Look for apartments and houses that allow pets. Many landlords make exceptions to their "no pet" policies for caged animals – although your rabbit certainly needs regular exercise. If you have already signed a lease, you can talk to the landlords and explain how quiet, clean, and friendly your rabbit is. Your bunny is a part of your family, so try to find a home for all of you.

Allergies
Are you experiencing allergies? There are many ways to decrease allergy symptoms in most cases. You may be allergic to the rabbit or, more likely, to its hay. Try switching hay types, from Timothy to Oat hay (not alfalfa for adult rabbits). Store hay in a closet in a sealed container. Have someone else give out the hay and change the litter boxes for the rabbit. If you are allergic to your rabbit's fur, designate a room for the rabbit and declare the rest of your home "fur free". You can also invest in air purifiers (we recommend Hepa filters) and look into allergy medications. If you aren't able to put the effort into one of these solutions, then you will need to look at the other two options.


Option 2: Find a New Forever Home for your Rabbit
This takes time and patience. Start early! Have a clear plan and be patient to find the right fit. Consider having your rabbit spayed or neutered to make it a more desirable pet. The best home is with someone you know and trust so spread the word among family and friends and coworkers. Post notices at community centers and pet supply stores like Pet Valu and Global Pet Foods. A photo and detailed description help the most. Include tear off tabs with your phone number. If you release your rabbit to someone you don't know, you lose all control over its fate. You don't want your bunny used as snake or humane food! You can use free services like Craigslist to post an ad as well.
Charge a rehoming fee. This weeds out a lot of people who don't have an animal's best interest in mind. You can always choose to waive the fee if you meet and feel comfortable with the person. Or, you can ask that the adopter make a donation to their favorite charity in lieu of giving you the money, often people are more comfortable with that. Include your rabbit's cage or pen and food dishes to help get them set up. Ask a lot of questions, about what they will feed, what will be used for litter, if they will take the rabbit to the vet, and where the rabbit will spend the days and nights. Go with your instincts, if you think it will not be an appropriate home for your rabbit, you are probably right! All of this will add up to successfully finding a safe home for your rabbit.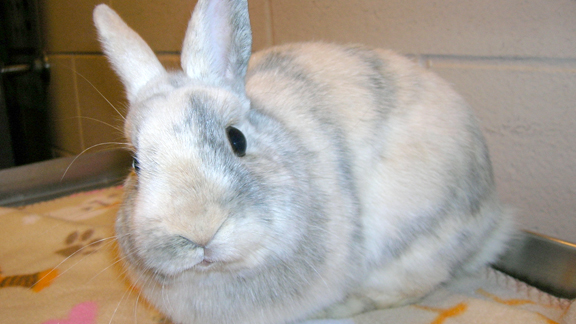 Option 3: Surrender your rabbit to a local shelter
If none of these options have worked, take your rabbit to your local shelter. This does give your rabbit a chance at being adopted, but please be aware that your bunny may not fare well in a shelter environment. You have no control over your rabbit if you do surrender it. Look into several local shelters and their adoption policies and policies about euthanizing animals. Often rabbit are kept for years at shelters without ever coming out of their cages. Other shelters, due to the sheer volume of rabbits they receive, can only keep new rabbits for a few days until they must euthanize them to make room for more coming in. Some low kill shelters have a waiting list you can get on. You can also talk to your local pet supply store or vet and see if they would be willing to take in your rabbit and have them on display for adoption.
Option 4: Foster your rabbit for Rabbit Rescue Inc.
Rabbit Rescue works primarily with shelters and because of that we are not able to take in many owner surrenders. We are staffed by a group of volunteers and we work with shelters to save rabbits already in the shelter system. We are always full and usually have a long waiting list of rabbits, many of whom are slated for euthanization. If you have exhausted all other options, fostering your rabbit for Rabbit Rescue might be an option for you. You would provide a photo and bio of your rabbit, as well as a surrender fee and any previous medical records. We would place your rabbit on our website and the applicants would be screened for adoption. We spay and neuter all rabbits prior to coming into our care and they all receive a health check up from our vet as well.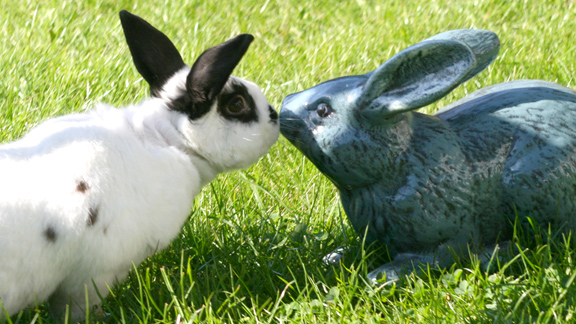 We sincerely hope that you can keep your bunny, or find him a safe and loving home. Contact us if you would like us to assist you to work towards finding a way to keep you rabbit yourself.