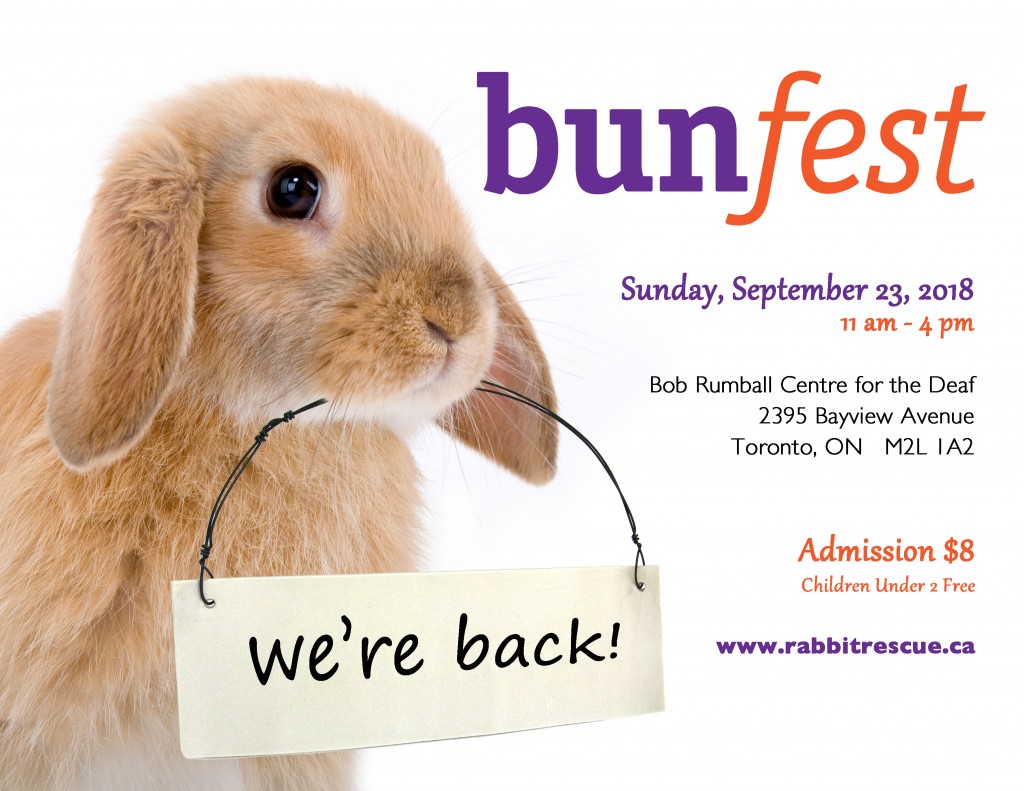 What is BunFest?
BunFest was created by Rabbit Rescue Inc. as an educational exposition and fundraiser. Our aim is to educate pet rabbit owners regarding everything related to bunny guardianship and offer advice, information and support. Throughout our venue you will find all kinds of fantastic and fun areas of interest, so take your time to explore them all!
BunFest is geared specifically towards rabbits that are house pets.  BunFest does not endorse, support or recommend the breeding or showing of rabbits.  Our Event and information focuses on keeping your rabbit happy and healthy in a loving home environment – we believe rabbits deserve to be part of the family!
How much is admission?
Admission to BunFest is $8, with 100% of the proceeds going to help the animals in Rabbit Rescue's care.
Can I bring my bunny?
Of course!  There are lots of fun things for you to do with your bunny at BunFest, however, please take a few things into consideration.  While we would love to see you and your rabbit at BunFest, please keep in mind that this event can be crowded, noisy and stressful for some bunnies.  No one knows your bunny as well as you do so if you think that BunFest might be too much for your rabbit to handle, please leave them at home.  Make sure you pick up lots of bunny stuff to make it up to them!  Please refer to our 
BunFest Rules 
for additional information.
What is happening throughout the day?
We have a BunSpa, Glamour Shots, bunny merchandise, a bunny cafe and lounge, a silent auction, special guests and vendors and so much more!  Also, please see below for a list of events and seminars happening throughout the day that you won't want to miss! 
Where is BunFest being held?
Bob Rumball Centre for the Deaf
2395 Bayview Avenue  Toronto, Ontario  M2L 1A2
The Bob Rumball Centre for the Deaf is located at 2395 Bayview Avenue. On the East side of Bayview Avenue, just North of Lawrence Avenue East, and just South of Post Road. Across the street from the Granite Club and North of Glendon College and Crescent School.
BunFest Parking Notice! FYI, incase the parking lot at the Bob Rumball Centre is full, we have permission to use the parking lot of Crescent School just south of the venue.
How do I get there via TTC?
Visit www.ttc.ca and enter your address to find the best route via the Bus or Subway.  The Bob Rumball Centre is conveniently located directly off of Bayview Avenue and close to the subway line.
Will there be bunnies available for adoption at BunFest?
Yes!  Rabbit Rescue will have adoptable rabbits at the Bunny Bridgade area of BunFest.  We will also have our Adoption Binder so you can look at all the rabbits looking for new forever homes.  PLEASE NOTE:  Rabbit Rescue rabbits will not be adopted out BunFest day.  Our Adoption Screening process does not allow for same-day adoptions, but you can fill out an application to adopt on BunFest day.
ADOPTING BUNFEST DAY
Many of our shelters participating in BunFest WILL have rabbits that you can adopt on BunFest day.  Toronto Animal Services, the Toronto Humane Society Special Species Department and Upper Credit Humane Society will have adoptable rabbits who are looking for new, forever homes.  If you are hoping to find a new friend at BunFest, please bring at least two pieces of governement-issued I.D. and cash for the adoption fees.  Adoption fees and screening processes vary by shelter/rescue and are at their sole discression, so please come prepared.  There is no ATM on-site.
What sort of payment is accepted?
We are able to accept cash and major credit cards at BunFest.  Unfortunately we are NOT able to accept personal cheques or debit cards.  There is NO ATM on-site, so please come prepared!
Is there food available to eat?
Yes!  We will be having our BunFest Bake Sale inside the venue which will offer wonderful sweet treats, all are vegan. There will also be fresh and delicious vegetarian and vegan fare available for purchase.