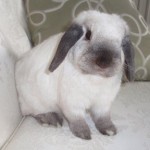 Our Current Wish List:
Our largest need is for foster homes. If you may possibly be interested or would like to learn more, please click here.
We are also looking for volunteer drivers, monetary donations for medical care, Creative Cubes, Neat Idea Cubes, Xpens, animal carriers all sizes, litter boxes (new), litter (Yesterdays News, Fresh4life), rabbit toys (hard plastic baby toys are great too), large Rubbermaid containers, grooming tools, Canadian Tire Money, office supplies, baby and fleece blankets.
If you have any of the following to donate please email Haviva to arrange a pickup/drop off. Thank you!

DONATE AIRMILES
Rabbit Rescue # 8401 091 8128
This AirMiles number can be used at the cash registers or point of sale. All you need to do is provide the participating store with our number!

DONATE HBC REWARDS
The Bay, Home Outfitters, Zellers, Designer Depot and the online store? Rabbit Rescue Community ID: 9042183
This cannot be used at point of sale. Please go to the HBC site www.hbc.com to donate your points to Rabbit Rescue. Select "HBC Rewards" tab and follow the instructions to donate to a Charity. Use the Rabbit Rescue Community ID #, or type in Rabbit Rescue, then follow the prompts. You can do this as a one time donation but please consider donating your points automatically. You can choose the percentage of points to automatically donate on a monthly basis for a time period you specify.

DONATE CANADIAN TIRE MONEY
Canadian Tire Money can also be donated! Please think of us when your 'drawer' is getting full. If you have redeemed your points for gift certificates or you have Canadian Tire Money you wish to donate, please forward to: Rabbit Rescue Inc. – 101 Holiday Inn Drive, PO Box 29143 Hespeler PO, Cambridge, ON  N3C 0E6

AMAZON
Find Rabbit and bunny related books at Amazon.ca and support Rabbit Rescue at the same time by clicking on the link below. All purchases made within 24 hours of clicking will earn Rabbit Rescue a percentage of the total. Click here to go to our page.

IGIVE
Shop and Donate with igive.com.

CANADAHELPS.ORG
Making a donation is simple: a donor chooses a charity, identifies any special requests associated with that gift (memorial designations, specific project requests, frequency of gift etc.), and begins the checkout (or payment) process. Once the donation has been paid for, the donor receives an immediate, secure PDF tax receipt, issued by CanadaHelps, by email. CanadaHelps then disburses the funds (less a 3% transaction fee) to the designated charity, along with any special requests associated with that gift, and in the manner the donor specified at checkout.
Click HERE to visit Rabbit Rescue's page.

Wills & Bequests
A will is a key part of leaving our life in good order. Before we cross the rainbow bridge we should know that our worldly assets will be in good hands and will be used for good purposes. For some of us, death may have special consequences. The life of a bunny or other fuzzy companion may be in jeopardy. Their proper care may be the utmost priority. These special friends may need immediate care, as well as new happy homes until they rejoin us across the rainbow bridge.
For the rest of us, death may be simpler, but we may still choose in our will to leave a legacy to help bunnies or other animals. In either case, Rabbit Rescue is prepared to work with you. Our primary goal is to help bunnies and other small mammals that are out of time at shelters. Our secondary purpose is to educate people about rabbits and ultimately prevent them from winding up at shelters in the first place. As part of your estate, you may wish to further these goals.
There are various ways to help bunnies in your will, such as:
By making a bequest of a specific monetary amount
By making a bequest of a specific asset, such as a stock, bond or property
By making a bequest of a specific percentage of your estate
By naming Rabbit Rescue Incorporated as a beneficiary of an asset such as a life insurance policy, RRSP or pension plan.
The legal form for a gift is best detailed by your lawyer. However, if you wish to include a legacy to Rabbit Rescue, the following language may be appropriate:
"To Rabbit Rescue Incorporated (Registered Charity 860959824 RR0001), of Cambridge, Ontario, Canada I bequeath the following ________________________, such amount/assets to be used for the general purposes of the organization."
If you have already written a will, adding a gift for Rabbit Rescue Inc. is very easy. You can simply amend your will to include an extra bequest by making a codicil. Or you can rewrite your will to make sure all your wishes are up to date. All it takes is a phone call to your lawyer to start the process to make a lasting gift for the animals. Your estate will receive a tax receipt for the fair market value of any gift. Whatever your choice, please talk to us about your wishes. We will help if we can.