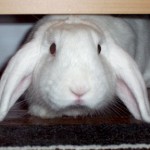 Tax receipts will be provided to you for all donations.
One time donations
Paypal – Just click on the logo below to make a secure donation.

Donation by cheque
Please make cheques payable to "Rabbit Rescue Inc" and mail to:
Rabbit Rescue Inc. 101 Holiday Inn Drive, PO Box 29143 Hespeler PO,
Cambridge, ON  N3C 0E6

Monthly donations
For less than the price of one cup of coffee, you could be saving the lives of many animals!
For your .83 cent daily donation ($25/month) you will enable us to offer medical assistance to animals in need. Many of our expenses reoccur monthly, so by donating each month, you enable us budget effectively. No donation is too small, and each donation is greatly appreciated.
You can sign up by send us post dated monthly cheques or, you can sign up with Paypal for automatic monthly donations, just click the link below!