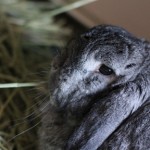 Finding Rabbits Loving Homes
Rabbit Rescue Inc. is a registered charity (86095 9824 RR0001) and needs your donations to help keep our Rescue running.
Tax Receipts are provided for all donations.
Rabbit Rescue Inc. works with dozens of shelters across the province, taking in last chance animals that no one else is able to assist. We spay/neuter ALL of our rabbits, which sets us apart from other shelters. We are NO KILL and always provide appropriate medical care to all of our animals – be it hamsters, hedgehogs, rabbits or gerbils!
Your generous donation is desperately needed to keep our rescue running. The animals thank you for your support!