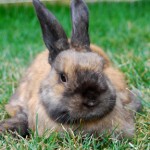 Benefits of Adopting from
Rabbit Rescue
All of our rabbits come spayed or neutered
Upon arrival in our care, our rabbits are all spayed or neutered by one of our rabbit savvy vets. After their surgery, our rabbits get to rest in the loving and quiet home of their foster parent who can properly oversee their recovery. And if they are too young to be spayed or neutered at the time of arrival, they will remain in foster care until they are old enough to be altered. We do not adopt out unaltered rabbits.
All of our rabbits have been health checked
Once in our care, every rabbit pays a visit to our rabbit-savvy vet clinic. Here they are assessed and treated for any ailments, conditions or illnesses and if continued treatment is needed, they will receive it. Some of our rabbits may need on-going care for the rest of their lives. You will be made aware the medical history of any rabbit you are considering adopting, and will receive guidance and advice to help you continue to care for the rabbit if you choose to adopt it. We are also happy to transfer over their medical records directly to your own rabbit savvy veterinarian.

Our rabbits have been socialized
Some rabbits can be nervous and anxious when they arrive at Rabbit Rescue and some need more work than others. Instead of living in a cage with little human contact, our rabbits live in foster homes until they are adopted. They receive daily exercise, interaction, handling, most important, love to help them overcome their apprehensions. When you visit a rabbit you wish to adopt, you will see his behaviour in a home environment, and can more accurately gauge whether or not they are the right rabbit for you.
We can tell you a rabbit's personality
When a rabbit lives in a shelter, it is usually surrounded by strange smells, sounds and people. There is often a lack of consistency with regards to handling, exercise and socialization, if any at all. While we realize shelters do everything they can to care for their animals, sometimes these living environments can be stressful. More often than not it results in a rabbit that is withdrawn, agitated, shy or aggressive for a prey animal like a rabbit. This doesn't mean the rabbit won't come around in the right environment, but it makes you, the adopter, unable to see a bunny's true personality and potential.
While in foster care, our rabbits live like one of the family. With daily interaction, exercise and socialization with the same people everyday, we have seen countless rabbits flourish and thrive in their new, loving environments. When you visit one of our rabbits, you will get to see the individual personality of that rabbit, how they will behave in your home and with your family. You are invited to bring other family members with you to interact with the rabbit, get a feel for who they are and make a more informed choice as to which one is best suited for your home and lifestyle. Some rabbits are needy, some more independent. Some might be laid back and cuddly while others will be more of a challenge. Because our rabbits are in experienced foster homes, we can tell you all about that bunny and whether or not they are the right one for you. We know their traits, their habits, their likes and dislikes – and you will too, before you even get them home!
Extensive adopter support
Once you have adopted a rabbit from Rabbit Rescue, you will be invited to join our message board where you can converse with many other rabbit owners. Ask questions, get advice, get tips and get learning! Whether you need advice on how to help your new bunny settle in his new home, food, housing, behavioural issues or if your bunny is acting strange or might be sick, our network of rabbit-savvy members are always on-hand to help, 24 hours a day, 7 days a week.. And if you are trying to bond your bunny to another, our experienced members can help you along the way with advice, recommendations and encouragement. And there's no better place to share your bunny stories and pictures!
Bunnysitting Network
Who better to take care of your bunny when you are away than another rabbit-savvy person? Many of our members love to take care of other people's rabbits in times of need. Some will take your rabbit into their home, others will visit your rabbit in yours, some might charge a small fee or swap services for a later date. Either way, you can rest assured that your rabbit is in loving and, most importantly, capable hands should anything arise. It's unbelievable peace of mind.
Becoming a Bunny Ambassador
It won't be long before you will find yourself giving advice on our messageboard and helping other new bunny parents – it's fun being a Bunny Ambassador! Our constantly growing circle provides you with endless opportunities to not only learn, but help others just like you. You can meet other members, volunteer with activities, participate in educational appearances and have loads of bunny fun! But only if you want to – your level of participation with within Rabbit Rescue is up to you and completely voluntary.
Rabbit Rescue relies heavily on our wonderful foster homes. Without foster homes, Rabbit Rescue could not save animals from being euthanized. We work primarily with shelters across Ontario and get the rabbits that are at most risk, and out of time out of the shelters. The more foster homes we have the more bunnies we can save. Each and every foster parent, or adopter can help us save one more life and make a huge difference to even one animal.