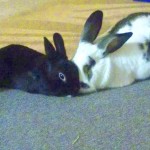 Reuben and Bunns were introduced just under a year ago and it was love at first sight.  Bunns had been introduced to other rabbits along the way, but she would have none of it.  She was waiting for Reuben, her partner and also her complete opposite in most ways.  Where Bunns is small, neat and very picky about who she favors with her presence, Reuben is more outgoing, enjoys pets and comes running when he is called.  He is a big, goofy, good-natured young bunny who is often found sprawled out contentedly on his favourite "bed" (a pile of blankets).   They live completely free range and usually choose to sleep under the couch, which they have turned into their den.  Bunns is extremely well litter trained.  Reuben always pees in the box but needs to do a little more work on remembering where the poops go.  He is still very young – probably around 2 – and not much has been done to help him with this, so he may just need a little guidance.
Bunns was rescued from a neglectful home about 3 years ago.  At the time the vet placed her at 1 or 2 years old, making her about 4 or 5 now.  She is a very shy, dainty, lady like little girl who picks at her food and maintains her decorum at all times. She will allow you to pet her gently on her head once she knows you very, very well.  Even that was only allowed after she saw Reuben enjoying pets and so decided it must be ok.  Since meeting Reuben she has come out of her shell and is a more trusting, relaxed Bunns.  She is often found with her head buried in his neck and I am sure this helps her feel safe and protected.
Reuben was rescued from his destiny as someone's dinner because the farmer was not providing proper care.  RR took him in to our care  and he was adopted out (and bonded to Bunns). As a result of this neglect he had to have some of his back teeth and his left eye removed.  The missing eye is barely noticeable due to the dark markings around the area, and he is truly a big, gorgeous guy.  Having been deprived of food in his first year, however, Reuben now eats to make up for lost time.  He dives into his bowl with great gusto and, as much as he loves Bunns, she sometimes gets trampled in the dinner rush.  She never minds, though, and hangs back and waits for him to have his fill.
Reuben and Bunns are almost never apart, awake or asleep.  Although they both had a horrific start in life, they are now living one of the great bunny love stories.  Bunns is the brains of this operation while Reuben is the heart.  Together they are an awesome (and adorable) duo.
Their current owner is extremely sad to part with them, but has recently been diagnosed with MS and is finding it increasingly difficult to provide proper care for them.  Both bunnies are very gentle with any human friends.  Bunns may need her incisors removed, which RR will do upon arrival into our care.
We are seeking an urgent foster home for them, as mentioned their current owner is having a very hard time looking after them due to her health.