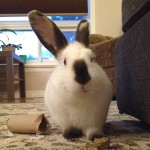 URGENT FOSTER NEEDED FOR JACKSTER
Jacks was originally found outside in December 2013 and brought to rabbit rescue where we had him neutered. He was relatively young at the time. He quickly took to litter training and having people around. He has never bitten anyone. He refuses to be picked up, but will hop into a carrier with minimal fuss. He will chew loose cords if left within reach, but with a little bunny proofing, he is a great free-run rabbit. He is good with his litter box and appreciates when it is kept clean. He is used to wood pellet litter.
He is a very good eater, eats 1/4 cup of Timothy pellets for breakfast, Timothy hay throughout the day, and any kind of vegetables and leafy greens that come his way. He drinks out of a bowl. He eagerly accepts any kind of bunny treats, such as a small piece of fruit, or Timothy cubes – a Timothy cube hidden in a toilet paper roll is a fun toy that keeps him busy.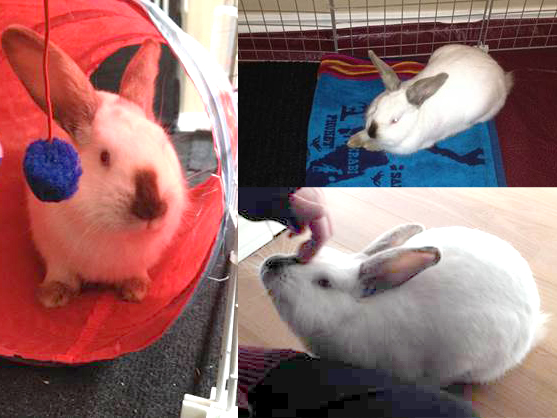 He is affectionate on his own terms. He is shy around new people, and if he is not in the mood to cuddle, he won't come to you, but he may show his happiness by binkying around you. If he is upset or startled he might thump his feet like Thumper. If you can help him by being a foster home for him, please email: Haviva@rabbitrescue.ca