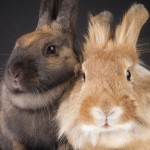 Reasons for a Rabbit Savy Vet
Rabbits should always have an annual exam, which will help detect problems early.
Why: Not all vets treat rabbits. Not all vets that treat rabbits KNOW rabbits! Many vets are trained in cat and dog medicine and often do not know enough about rabbits to medically treat them properly.
When: It is always a good idea to find a vet you feel comfortable with BEFORE you have an emergency. Rabbits should always have an annual exam which can help detect problems early.
How: We offer some recommended vets here. You might also want to check www.vetratingz.com. Next check the yellow pages for veterinarians who advertise as "exotic" (includes, rabbits & rodents). The next step is to phone the vet. Let the front office person know that you are concerned with finding the very best veterinarian to care for your rabbit and that you would like to speak directly to the doctor at his/her convenience. Leave both your work and home phone number and specific times that the veterinarian can get hold of you or ask what would be a good time for you to call back (when the veterinarian is between appointments).
Emergencies: You need to be prepared for emergency situations at night and on weekends, when your regular vet might not be at the clinic. This preparation starts with your regular veterinarian. What are the days and hours of operation? Some veterinarians keep extended hours on certain weekdays. Does your veterinarian refer to a certain emergency clinic? If your veterinarian works with many non-traditional animal species he/she will probably know which emergency facility in your area also treats these animals.
If your will have to go to another location with an out-of-hours rabbit emergency, have the name, address, phone number and directions posted prominently in your house. Make a trial run by driving to the facility at least once so you have an approximate idea of how long it will take you.
Ask lots of questions!
Some guidelines
How many rabbits are seen each week?
Rabbits should make up a reasonable size of their practice (ie at least 10%)
How many rabbits are spayed/neutered each week?
Do they fast rabbits before surgery?
Answer should be NO!
Do they know what drugs are dangerous for rabbits?
IE Amoxicillin, Penicillin – unless it is injectible.
What type of gas anesthetic do they use?
Isoflurane is the only safe bunny gas
Have you lost any rabbits during routine surgeries?
How would you treat a hairball?
Surgery should be the very very last alternative.
Are there other veterinarians in the practice that can treat your rabbit in case the primary vet is not available? And if not, then to whom do they refer these cases?
Does the vet refer difficult cases to anyone else?
How does the vet check molars?
With an otoscope of videoscope are the only acceptable answer. Visual inspection is not enough.
Can you briefly meet with the vet prior to your first pet visit and/or have a brief tour of the hospital?
Recommended links
Find vet ratings for vets all over North America by clicking here.
Rabbit Savvy Vets and Clinics in Ontario

Acton
Black Creek Animal Hospital – 13383 4th Line, Acton, ON,L7J 1C1
Tel 519 929-9308
Dr. Debbie Hrynkiw
www.blackcreekanimalhospital.com

Ancaster
The Golf Links Veterinary Hospital – 27 Legend Court, Unit #1A, Ancaster, ON  L9K 1J3
Tel 905-304-7387
Dr. Johnathan Pittiway
golflinksvet.ca
Belleville
Foster Park Pet Hospital – 213 Dundas St. E, Belleville, ON
Tel 613-969-2273
Dr. Bennett
www.fosterparkpethospital.ca
Bowmanville
Bowman Veterinary Clinic – 2826 King St E, Bowmanville, ON, L1C 3K5
Tel 905-623-4431
Dr. Korver
www.bowmanvilleveterinaryclinic.com
Caledon
Cheltenham Veterinary Centre – 13909 Hurontario Street, Caledon, ON
Tel 905-838-3451
Dr. David Kirkham
cheltenhamvet.ca
Cambridge
Preston Animal Clinic – 1606 King St. E, Cambridge, On, N3H 3R7
Tel 519-653-7232
Dr. Meghan Wallace & Dr. Amanda MacDonald
www.prestonanimalclinic.com
Guelph
Campus Estates Animal Hospital – 1460 Gordon St, Unit 1a, Guelph, Ontario, N1L 1C8 Tel 519-837-1212
www.petsandvets.ca
OPEN 24/7
Ontario Veterinary College – University of Guelph Guelph, ON  N1G 2W1
Tel 519-823-8840
Website
OPEN 24/7

London
Oakridge Animal Clinic – 1109 Sarnia Rd, London, On, N6H 5J9
Tel 519-471-1560
www.oakridgeanimalclinic.com
Wellington-Baseline Animal Hospital – 317 Wellington Rd., London, ON N6C 4P1 Tel 519-680-1951
wellingtonbaselineah.ca
Lynden
Lynden Animal Clinic – 847 Lynden Rd, Lynden, On, L0R 1T0
Tel 519-647-3921
Dr. Shannon Lee
www.lyndenanimalclinic.com
Ottawa Area
Lynwood Animal Hospital – 30 Thorncliffe Place, Nepean, ON, K2H 6L2
Tel 613-820-0443
Dr. Tracey Poulton
www.lynwoodanimalhospital.ca

Liston Animal Hospital – 4055 Carling Ave, Kanata, ON
Tel 613-591-0966
Dr. Steve Liston
www.listonanimalhospital.ca

Carling Animal Hospital – 2268 Carling Avenue, Ottawa, ON
Tel 613-725-3439
www.carlinganimalhospital.com

Algonquin Animal Hospital – 1945 Baseline Road, Ottawa, ON  K2C 0C7
Tel 613-224-5701
Dr. Diane Walker
www.algonquinanimalhospital.ca
Tenth Line Animal Hospital – 200 Vanguard Drive, Orleans, ON K4A 1A1
Tel 613-824-4500
Dr. Mobarak
www.tenthlineanimalhospital.ca
Blackburn Animal Hospital – 110 Bearbrook Road, Gloucester, ON K1B 5R2
Tel 613-590-0466
Dr. Mobarak
www.blackburnanimalhospital.ca
Owen Sound Area
Grey Bruce Pet Hospital – 905 7th St E, Owen Sound, ON, N4K 1K3
Tel 519-376-7387
Dr. Dave Gomez
www.greybrucepethospital.com
Scarborough
Amherst Veterinary Hospital – 3206 Eglinton Ave E, Scarborough, ON, M1J 2H6
Tel 416-261-3322
Dr. Hester & Dr. Young
amherstvh.com
Stoney Creek
Briarwood Animal Hospital – 76 King St. East, Stoney Creek, ON
Tel 905-664-4888
www.briarwoodanimalhospital.com
Toronto
Beaches Animal Hospital – 2304 Queen St. East  Toronto, ON  M4E 1G8
Tel 416-690-4040
www.beachesanimalhospital.ca 
Greenwood Park Animal Hospital – 1041 Gerrard St. East Toronto, ON  M4M 1Z6
Tel 416-778-6666
www.drmunn.ca
WINDSOR
Brack Animal Hospital – 2621 Howard Avenue, Windsor, ON
Tel 519-966-1020
Dr. Fuerth
brackanimalhospital.ca