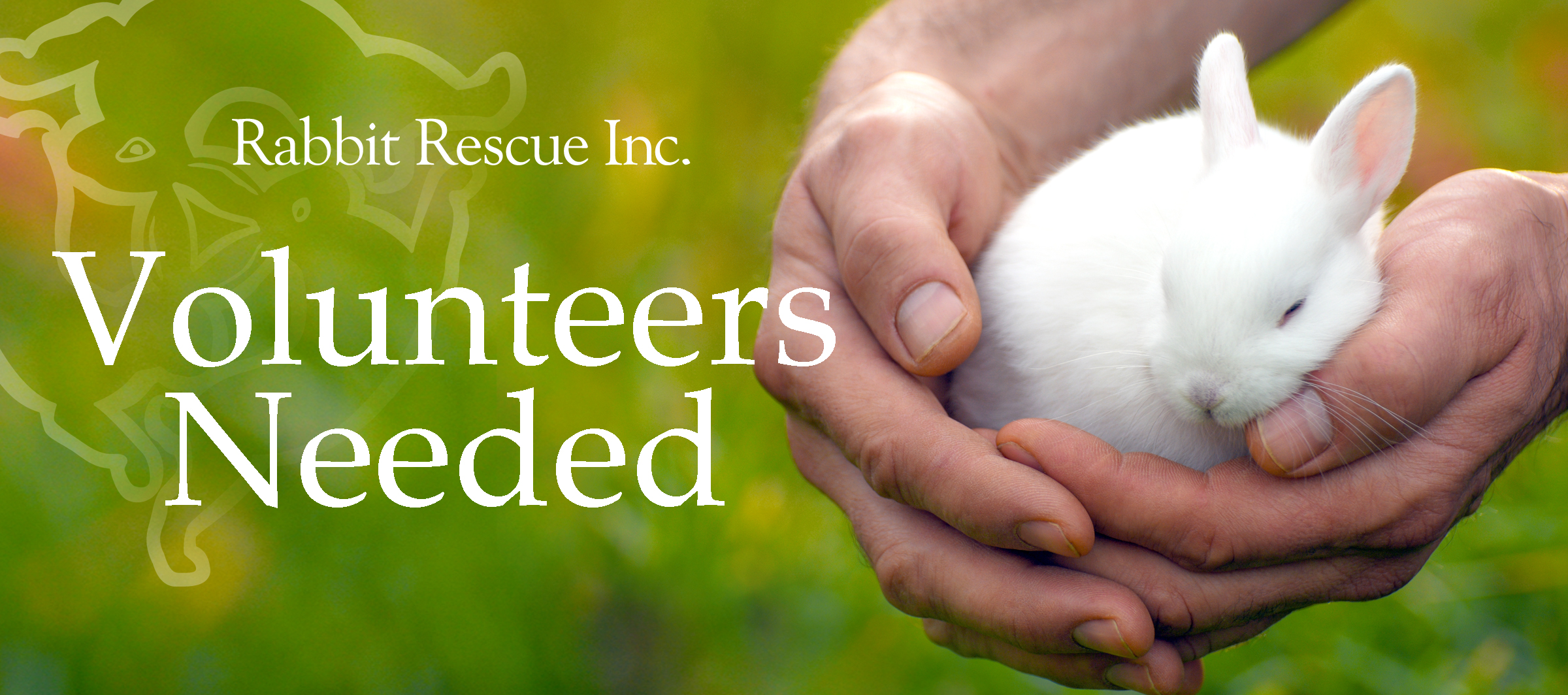 Like all registered charities, Rabbit Rescue Inc also could not survive without the amazing support and dedication of our volunteers.
Right now we are looking for responsible adults who are willing to donate a bit of their time each month to help Rabbit Rescue. Positions we desperately need:
Fundraising – We need multiple personnel to independently generate ideas and work with the Director to execute fundraising initiatives.
Advocates – Also multiple personnel to go to your local pet shop to raise awareness about Rabbit Rescue Inc as well as ask for supply donations. Guide packages with signage and tools will be provided.
All positions require working with the Director of Rabbit Rescue or a member of the current volunteer team. If you think you would be an ideal candidate for any of the positions listed above please contact us for more information.
A great way to try a new challenge and help lots of bunnies in the process.

Becoming a Foster Parent
Rabbit Rescue relies heavily on our wonderful foster homes. Without foster homes, Rabbit Rescue could not save animals from being euthanized. We work primarily with shelters across Ontario and get the rabbits that are at most risk, and out of time out of the shelters. We also work with individual owners needing to rehome their rabbits. The more foster homes we have the more bunnies we can save. We do our best to save as many as possible, and each and every foster parent can help us save one more life and make a huge difference to even one animal.
Test drive a rabbit
Besides saving a rabbit's life, fostering is also a great way to find out if a bunny is the right pet for you. You will have no obligations to keep fostering the rabbit if it is not working out for you. However we do ask that you give us as much notice as possible, so we can locate another appropriate foster home. It is always in the best interest of the animals to be moved around as little as possible, so please take your time to think about if fostering is something you can commit to.

How to get started
To become a foster home for Rabbit Rescue we require you to fill out an application so we can find the right match for you based on your situation. Once approved, you will have access to our online Yahoo Group (http://groups.yahoo.com/group/rabbitrescue/). This group is a wonderful place to share stories, ask questions and meet other foster parents, volunteers, and adopters.


Can I foster other animals?
From time to time, Rabbit Rescue also takes in the following animals: hamsters, gerbils, mice, degus, chinchillas, sugar gliders and hedgehogs. We do not take in guinea pigs, ferrets or rats.

How long will you have your rabbit
It is always difficult to judge how long it will take a rabbit to find the right home. Certain breeds adopt our more quickly than others. Bonded pairs tend to adopt out more slowly.

Supplies
Rabbit Rescue supplies foster homes with a cage, litter box, bowl and water bottle for your foster. You supply the litter, pellets, hay, veggies and love that they so desperately need. The types of litter that are approved are: Yesterdays News, Mews Print, Carefresh bedding, Aspen shavings, and Wood Stove Pellets (w/out accelerants). If you would like to use a different type of litter, please contact us in advance. Occasionally we do get pellets, hay and litter donated, which we pass along to you, the foster.

Vet Care
What happens if your foster animal becomes ill while in your care? We have several vets that we work with (in Guelph and Toronto) and we ask that you bring the bunny there for treatment. If you are unable to get there, we can help arrange transport. You are not obligated to, but you do have the option of contributing to your fosters vet bill. You will receive a tax receipt for whatever amount you donate. If you choose to take the rabbit to your local vet, (if it is more convenient for you), please let us know in advance and understand that we will not be able to cover that cost.

When your foster gets adopted
If someone is interested in your foster rabbit to potentially adopt, there are a few steps
to go through.
you will be contacted by the one of the adoption team members for a more in-depth bio of your bunny. The possible adoptee will receive the bio and your email address and may contact you for more information or a time to see the bunny, at your convenience.
you the foster parent will receive an adoption agreement form from RR that is to be filled out by the adopter, and signed by both of you.
you the foster will take the adoption fee from the adopter before the bunny leaves your house – cash or cheque made out to Rabbit Rescue Inc are both acceptable. If the adoptee does not provide the adoption fee to YOU or does not fill out the adoption agreement, you can not release the bunny to the new owner.
the adoption fee and adoption agreement together can then be mailed to
Rabbit Rescue (101 Holiday Inn Drive, PO Box 29143 Hespeler PO, Cambridge, ON N3C 0E6). Please do NOT send cash through the mail.
as a foster, we appreciate your input. If you feel the adoptive home is not the right fit for your foster bunny, please let us know and we will take that into consideration. If you feel uncomfortable with the adoptee taking home the foster rabbit while they are at your home, please call us immediately to discuss the situation.